New York based Heavy Rock Band BRAND OF JULEZ has released the official music video for their newest single, "Take It All Away." Filmed in Staten Island, NY, "Take it All Away" was directed by Christian Lawrence.
"At a time where there is so much divide in our country, I wanted to throw myself into the mix. Lies don't ever work and thinking that the wool is being pulled over our eyes is foolish. There is a voice screaming to be heard from the new generation and 'Take It All Away' is this Latino from the South Bronx sharing his." – Julez
Download / Stream "Take It All Away" Online:
iTunes | Spotify | Amazon | Googleplay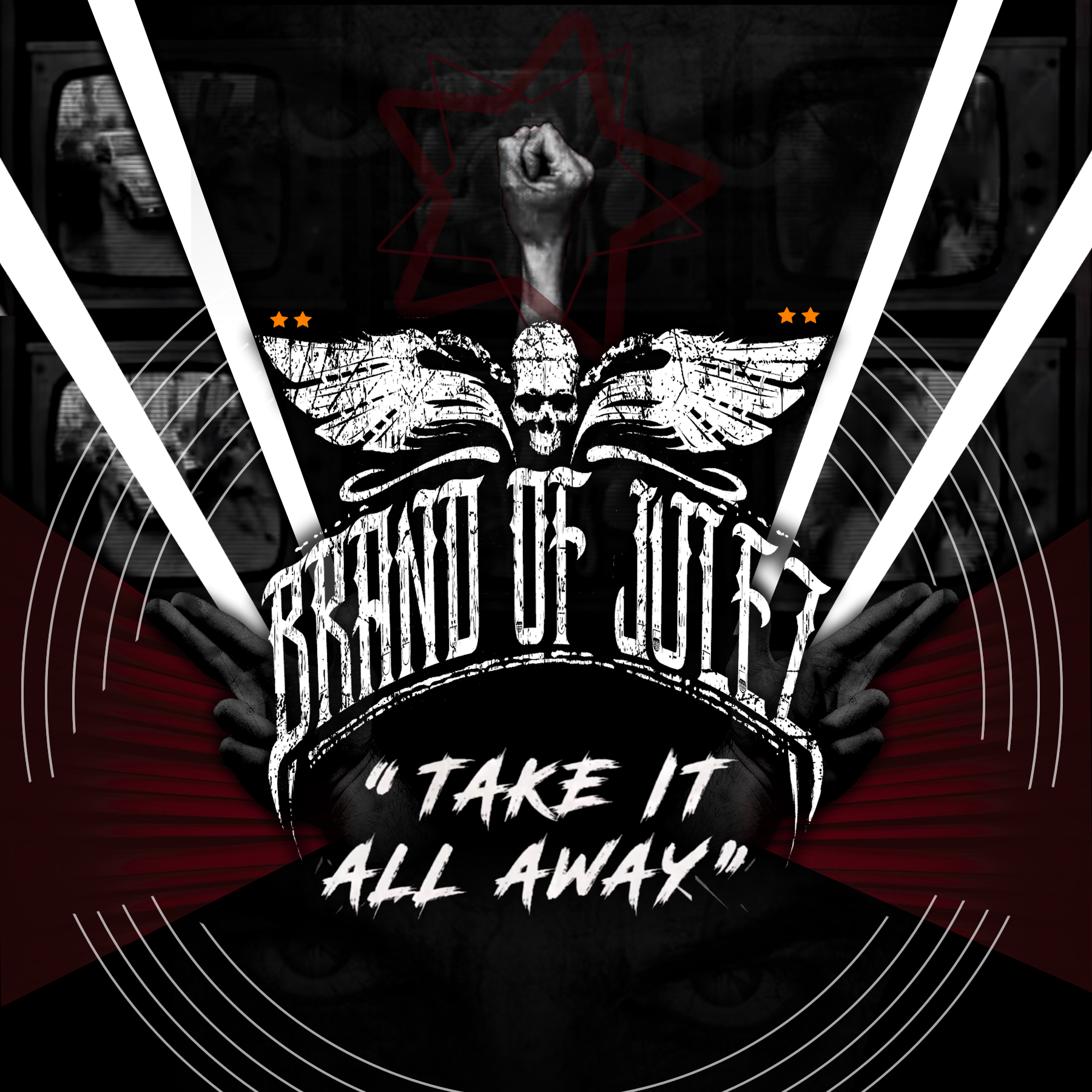 When you think of the South Bronx, you don't think of modern, melodic rock anthems, passionately aggressive vocals, heavy guitars, ripping solos, driving bass lines or pounding drums fills. However, that is exactly what Brand of Julez delivers night after night.
Brand of Julez was formed by brothers Julez Zamora (vocals/guitars) and Brandon Zamora (bass/backing vocals) in 2011 at the ripe old age of 16 and 13, Brand of Julez have climbed their way up the NYC ranks with a passion and fury that cannot be denied.
With the release of their debut EP in September 2012, Brand of Julez have relentlessly worked to bring their brand of heavy rock to the masses with incendiary performances at legendary venues like Webster Hall (The Studio, The Marlin Room, & The Grand Ballroom), The Gramercy Theater, The Bowery Ballroom, Mercury Lounge, Irving Plaza and Starland Ballroom. Their powerful performances have brought them to share the stage with national recording artists like Buckcherry, Ace Frehley, Pop Evil, Red Sun Rising, Lynch Mob, Gemini Syndrome, Kyng, Sons of Texas, Crobot, Drowning Pool, Adrenaline Mod, Wayland, Burn Halo, Orianthi, Alice Cooper, Stitched Up Heart, Cycle of Pain, and Full Devil Jacket.
In 2016, Brand of Julez began working on recording new tracks. Working with the engineering talents of Joey Z (guitarist for Life of Agony), the mixing magic of Mike Ferretti at Architekt Music (Sevendust) and mastering perfection of Andy Van Dette at Engine Room Audio (Sevendust, Muse, Rush) led Brand of Julez to their self produce debut album FORWARD, which was officially released in June 2018.
With the addition of New Jersey's Nick Kashmanian (lead guitar/backing vocals) and Frankie D'Esposito (drums) from Long Island, the BOJ family is complete and ready to take aim at the national spotlight. Recent US tours with Otep, Doll Skin, Bobaflex, Puddle of Mudd, and Texas Hippie Coalition have taken Brand of Julez around the country several times. A 35 date US tour in August/September of 2018 with Orgy and Motograter as well the release of a new single, will lead Brand of Julez back into the studio for their next musical offering.
Brand of Julez are ready to deliver their heavy rage of rock that will have you banging your head, with your horns raised and leave you with songs that you'll be singing long after the show has ended.
Connect with Brand Of Julez:
Facebook | Twitter | Reverbnation | Instagram