Nashville-based, southern rockers THEM DIRTY ROSES has announced upcoming dates for their August 2021 tour run. Launching August 5 at Arts Avenue in Chattanooga, TN, the tour runs through the South and Midwest, wrapping up September 25 at Southern Wilds Festival in Lawrenceville, GA.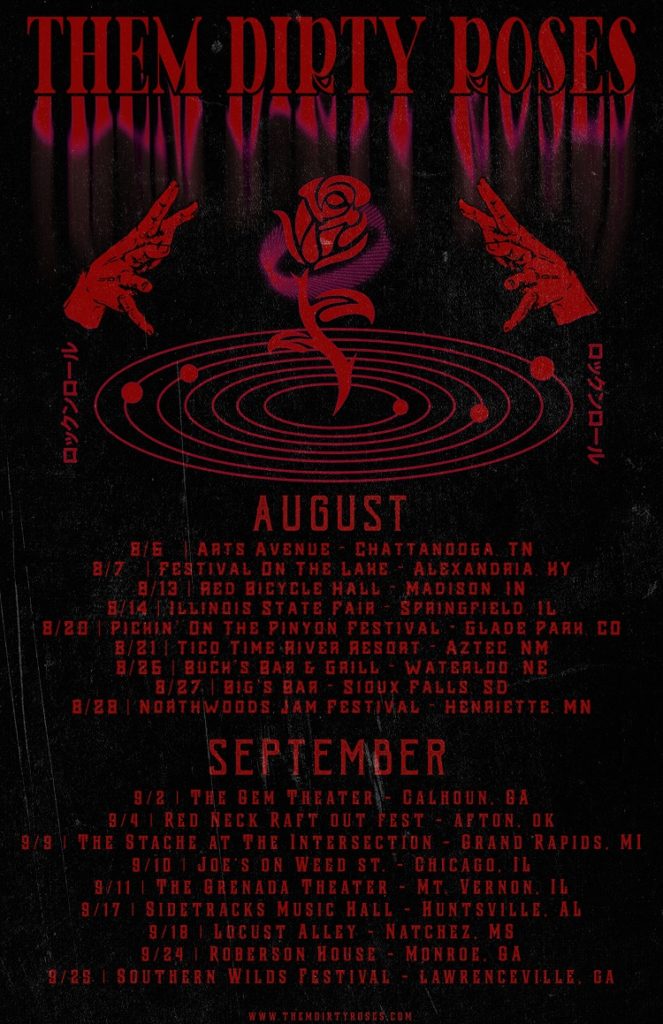 Tour Dates:
08/06 @ Arts Ave – Chattanooga, TN
08/07 @ Festival on the Lane – Alexandria, WY
08/13 @ Red Bicycle Hall – Madison, IN
08/14 @ Illinois State Fair – Springfield, IL
08/20 @ Pickin' on the Pinyon Festival – Glade Park, CO
08/21 @ Tico Time River Resort – Aztec, NM
08/26 @ Buck's Bar & Grill – Waterloo, NE
08/27 @ Big's Bar – Sioux Falls, SD
08/28 @ Northwoods Jam Festival – Henriette, MN
09/02 @ The Gem Theater – Calhoun, GA
09/04 @ Red Neck Raft Out Fest – Afton, OK
09/09 @ The Stache at the Intersection – Grand Rapids, MI
09/10 @ Joe's on Weed St – Chicago, IL
09/11 @ The Grenada Theater – Mt. Vernon, IL
09/17 @ Sidetracks Music Hall – Huntsville, AL
09/18 @ Locust Alley – Natchez, MS
09/24 @ Roberson House – Monroe, GA
09/25 @ Southern Wild's Festival = Lawrenceville, GA
Click HERE for Additional Dates & Ticketing Information.
Born and raised in the Bama clay, these boys are as southern as they come. Taught how to bend a string and break a heart by Skynyrd and Hank, brothers James and Frank Ford along with their hometown friends Andrew Davis and Ben Crain formed the southern rock band known as Them Dirty Roses. Piling into an RV with their belongings, their instruments, and all the whiskey they could carry (in the cooler), they made their way from Gadsden, AL to Nashville, TN. All living all under one roof, Them Dirty Roses are a living example of the quintessential rock and roll American Dream. Their live show calls for a shot of whiskey and a 2 for 1 special — BUT what that really means is you better be ready to throw back 12 for 6 and shake it with Them Dirty Roses.
Vocals + Guitar / James Ford
Guitar / Andrew Davis
Bass / Ben Crain
Drums / Frank Ford
Connect with THEM DIRTY ROSES:
Official
Facebook | Twitter | Instagram