LA based Theatrical Metal Band RAVEN BLACK has taken the opening theme of the 1993 TIM BURTON cult classic THE NIGHTMARE BEFORE CHRISTMAS, "This is Halloween," and created a new #1 Allhallows Eve playlist favorite! With a darkly playful lyric video directed by killDevil Films, RAVEN BLACK infuses the DANNY ELFMAN composed anthem with crunchy guitars and explosive, exuberant vocals from the diminutive front-woman.
"Being our favorite all time HALLOWEEN Movie, created by Tim Burton, it was natural for us to want to cover this song.

We both love everything Tim Burton and Disney so doing this cover has been an amazing honor! It was extremely fun to sing all the different parts together and give it our Raven Black carnival metal twist. " – RAVEN BLACK & MUPPET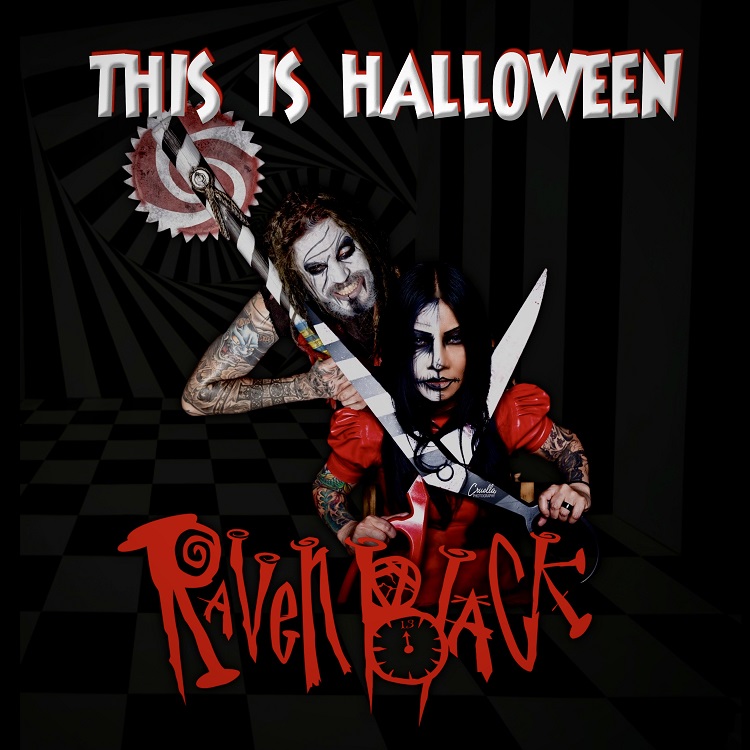 Click HERE to Purchase / Stream "This is Halloween" Online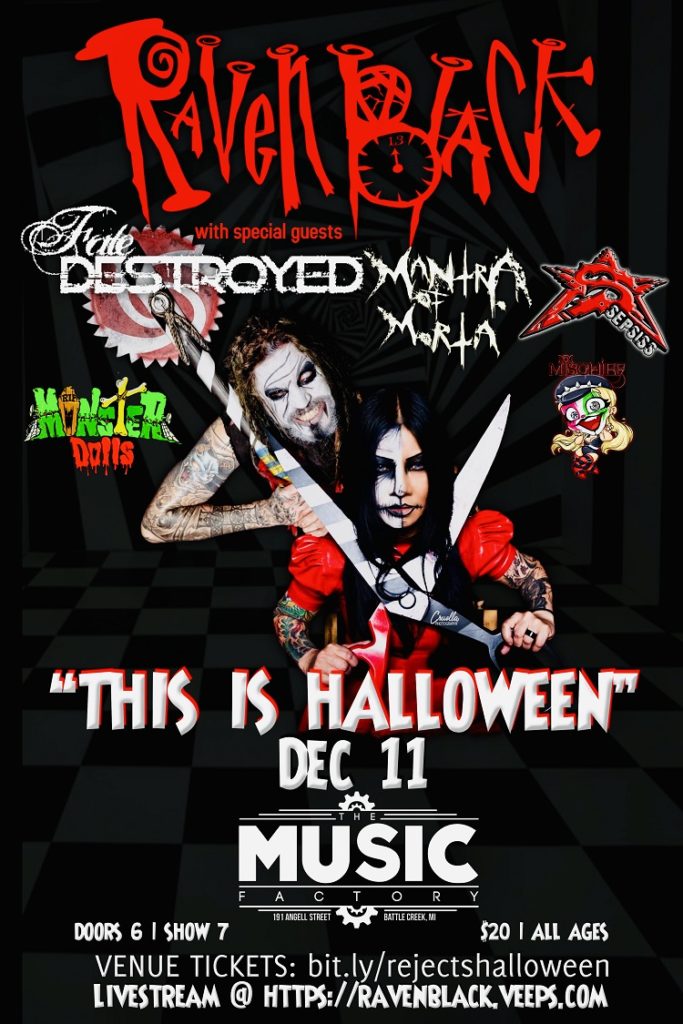 RAVEN BLACK will also be headlining THIS IS HALLOWEEN at The Music Factory in Battle Creek, MI on December 11, 2021 with FATE DESTROYED, MANTRA OF MORTA, SEPSISS, and MONSTER DOLLS. Tickets can be purchased for the live performance and remote fans can join the raucous festivities–including additional fun and a costume contest–from home via Live Stream.
Click HERE for Tickets to RAVEN BLACK "THIS IS HALLOWEEN"!
Click HERE for VIP Upgrades to RAVEN BLACK "THIS IS HALLOWEEN"!
Click HERE to Livestream RAVEN BLACK "THIS IS HALLOWEEN"!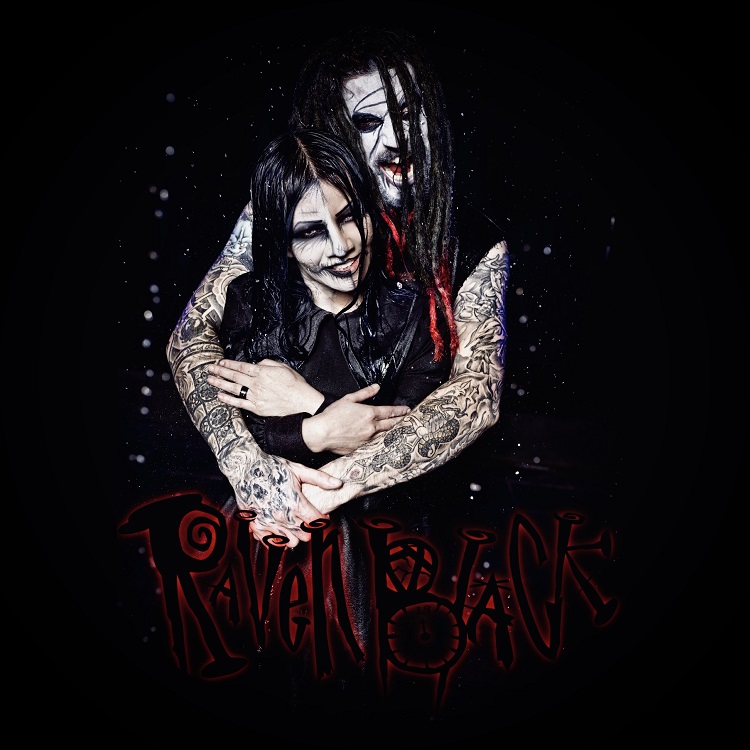 .
Meet Raven Black.
Raven was reborn again, but lost in a world she didn't fit into. LOST in her own journey hidden behind an innocent smile. Decades of inner turmoil and suffering, she finally let go and took her journey into the darkness with vigilance. She would be found and no one will stop her from reaching the sky from the underground.
Then she met the others. "The Doctor" who came across a girl who looked lost and scared. He tried to use his magic to turn her into a voodoo doll, but his spell was disrupted from her terrifying and taunting screams, she remained half human, half doll. As Raven lived in the Doctor's world of madness, she secretly learned his magic and conjured up a demon, Muppet, who she made her eternal protector and trapped him inside her heart. The Doctor and Muppet rebirthed the zombie Patient Zero into Stitches who was brought back to life through Raven's song and together they search for those who are looking for the dark metal carnival in the 13th hour.
ENDING THEIR 2018 YEAR, RAVEN BLACK HAS BEEN ON TOUR WITH DEVILDRIVER AND JINJER THROUGHOUT THE UNITED STATES.
IN 2019, RAVEN BLACK SIGNED WITH THE ORACLE MANAGEMENT, OWNED AND OPERATED BY DEVILDRIVER'S VERY OWN DEZ FAFARA AND AHNASTASIA FAFARA. WITH THIS POWER HOUSE MANAGING THE BAND, AND THEIR EVER SO STRONG BOOKING AGENT, JIMMY WOOTEN OF M7 AGENCY AND PRODUCER, ULRICH WILD OF WURM GROUP, THE BAND QUICKLY RISING THROUGH THE TOURING CIRCUIT AND SUPPORTING THE BIGGEST TOURS OF 2019. RELEASING THREE NEW SINGLES FROM THEIR UPCOMING THIRD ALBUM, RAVEN BLACK RELEASED SONGS, "CARNIVAL" "RISEN FROM THE ASHES" AND "HE IS THE ONE" AFTER PLAYING THE INKCARCERATION FESTIVAL AT THE FAMOUS OHIO REFORMATORY.
IN SPRING OF 2019, RAVEN BLACK WAS ON TOUR WITH CRADLE OF FILTH AND END THE 2019 YEAR WITH A TWO-PART US/CANADA TOUR WITH STATIC-X/DEVILDRIVER/DOPE AND WEDNESDAY-13 DURING THE SUMMER AND FALL.
RAVEN BLACK WAS SCHEDULED TO TOUR WITH IN THIS MOMENT, BLACK VEIL BRIDES & DED IN SPRING OF 2020, WHICH WAS POSTPONED DUE TO THE PANDEMIC. THROUGHOUT THE 2020 YEAR, THE BAND HAD KEPT BUSY WITH THEIR FANS, "THE REJECTS" BY STAYING IN CONSTANT CONNECTION THROUGHOUT SOCIAL MEDIA AND DEVELOPED A SUPPPORT GROUP, REJECTSHELP, TO PROVIDE MENTAL AND EMOTIONAL SUPPORT FOR THEIR FANS WHO WERE STRUGGLING WITH THE PANDEMIC. ENDING THE 2020 YEAR WITH A SPECIAL 2020 LIMITED EDITION REJECTS YEARBOOK, WHICH FEATURES ALL THE PHOTO MEMORIES OF THEIR FANS THROUGHOUT THE 2019-2020 YEARS INCLUDING TRADITIONAL "FAVORITES" AND YEARBOOK THEMES.
2021 CAME AND THE HIGHLY ANTICIPATED TOUR WITH IN THIS MOMENT, BLACK VEIL BRIDES AND DED IS SCHEDULED FOR SUMMER/FALL THROUGHOUT THE U.S. CURRENTLY, THE BAND IS WORKING ON A NEW SINGLE AND MUSIC VIDEO AND IS RELEASING THEIR 4TH ALBUM AND 3RD COMIC BOOK ISSUE IN EARLY 2022.
Connect with RAVEN BLACK:
Official
Facebook | Twitter | Instagram