New Jersey based Hard Rock Band AURIN has released the official music video for their emotionally charged, new single, "Pause Rewind Repeat," off of their upcoming third album, Serotonin.
The band has also launched a Kickstarter campaign to help facilitate the production and release of Serotonin.
"We are in a time in which political divides are tearing nations and their people apart. So many of us are too busy placing the blame or turning a blind eye, that we have lost the importance of being humanitarian. "Pause Rewind Repeat" is intended to show that we need to be stronger in order to push through all of the pain and suffering in this world. We need to lift each other up in order to break through the barriers that have been placed between us." – AURIN
Click to HERE to download / stream "Pause Rewind Repeat"!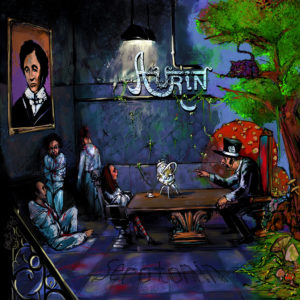 Aurin is back with their upcoming third album, Serotonin, slated for release Summer 2019 through TLG / INgrooves. Serotonin was produced by Grammy award nominated Mike Ferretti (Sevendust, Thank you Scientist, Saliva).
After their critically acclaimed 2014 release of record label debut album Catharsis on Pavement Entertainment / RED, the band hit the road, honing their live show while doing dates and touring with…. Art of Dying, Otep, Nonpoint, Icon For Hire, Gemini Syndrome, Ill Nino, Adrenaline Mob, Fit for Rivals, Smile Empty Soul, Members of Breaking Benjamin, 40 Below Summer, Islander, Tantric, Spineshank, The Bunny The Bear and more…
After bringing their new bassist Lisa Toniolo on board, they have been busy mainly behind the scenes focusing on writing, recording and preparing for the launch of Serotonin. "This album was a little different than our previous releases. We created a record that drifted a bit from our earlier and heavier music, though it was still heavily driven by our roots in hard rock. I personally feel like this album is our best by far, and features a lot more hooks while diving into more of an active rock sound. The subject matter is mainly inspired by the struggles of depression, losing loved ones to suicide, and the perseverance of hope in humanity through the decline of society. We hope to continue reaching out to and connecting with people through music. We have all seen our fair share of ups and downs, though realize it was a vital step in making us who we are currently as individuals and as a band."
Connect with Aurin:
Official | Facebook | Twitter | Instagram